For the longest I can remember, I used to say there's no more capacity for risk management in my life outside my business. I would often opt for the boring, safe, inexpensive leisure activities that would give me some room to breathe a little. I would also rarely book time off or prioritize my personal events; what if my team needed me and I was not around? (It's wrong, I know. But bear with me).
It's been over a decade since I've been embodying these fears, zero questions asked. I was never particularly happy, but I was functional most of the time. I was productive, balanced, and organized. Yet the relief of being able to keep things under control year after year did not equate any sense of joy. I was continuously missing the point of why I keep going.
This spring I saw an ad for a dirt bike tour for girls and I signed up. I had a strong impulse to just break things for once. 'If I want joy, then let's go all in.' I've never been on a bike, yet I didn't think twice before booking my seat (after a thorough research, of course!). Still, I showed up knowing almost nothing about enduro.
It's fall now, and I'm getting ready for my 4rd enduro tour in 4 consecutive months. I call this my favorite time of the month. When I'm on the road, both my bike and my focus pick up speed simultaneously. I am in total flow, despite not knowing the road beforehand or how to perfectly adapt to all the hurdles. I always ride on a different bike, always change my equipment, and there's no tour like the other—things have a natural tendency of getting more complex as you earn more experience.
That sounds like a lot of stress, but there are other things that are under my control that give me the confidence to keep on going. I'm following the lead of a highly talented instructor, he has a great organizing team around him, and somehow there are always other supportive and kind people to join us on tours, too. And that's more than enough to be able to power through an 8-hour, muddy and sweaty tour on rocky forest roads; willpower compensates for the rest.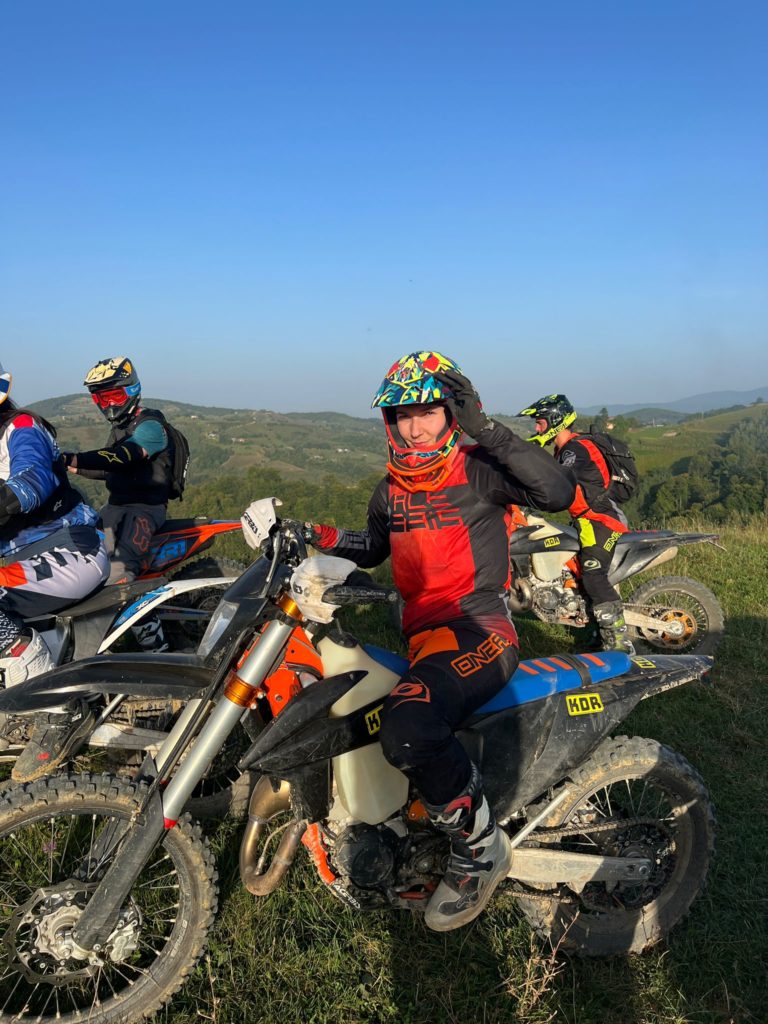 I think the same when I look at my businesses. I wish I could have everything under control, but I don't. I wish I knew all the possible ways to make things better, to prevent us from running into problems, to provide a great hiring and delivery experience both for our team and our clients. I wish I could just focus on enjoying the journey. I am not there, but I'm getting better at communicating my expectations, at asking for support, at looking for ways to bring more joy into our everyday work. And I wouldn't have rewired my thinking if it wasn't for that moment when I decided to follow my heart and just make the jump. I keep on reaping the reward to this day, and probably will continue doing so for a long time.
Sometimes we discover new worlds and we let them completely absorb us. That's when we know our lives will never be the same again. To me, it was overcoming the fear of failing at every aspect of my life that mattered to me at that time–professionally, personally, in my creative expression. After almost 13 years of non-stop work, I strongly believe that focusing on work and work alone is the perfect recipe for disappointment and depression, no matter how good the journey is.
Moving past the original fear made room for curiosity first, and then pure joy to flow right through me so I can share it with other people, then only to witness it returning my way with even greater fortitude.
Entrepreneurship is, by all means, hard. But it gets sweeter when you remember to live a little.